This is a tale of my journey to aquiring and restoring a true classic; the Checkmate Enforcer. I hope it will be entertaining as well as informative.
Most all that I will do and describe will probably be thrown to the wind in the forums first; so I know each of will have a part in the telling of this story. Thanks in advance for all that each of you have done so far, and for what you will do in the future.

Part 1: Lost the Enforcer but gained a trailer
---
My journey began with a trip to Houston to buy a 1983 Enforcer. I won't go into the details here but It can be found in my thread "Sad Checkmate Story" in Play to Win. The bottom line is I went to look at this boat.....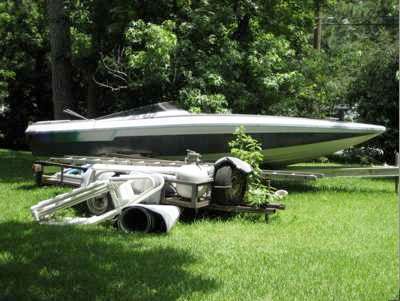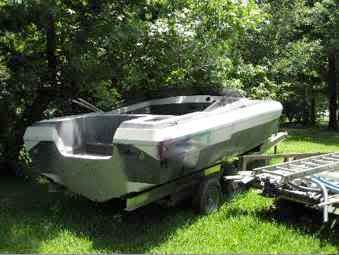 It appeared to be just what I was looking for. I knew it would need to have the stringers and transom replaced, but when I got to Houston the Enforcer had significant damage to the hull. I decided to back out of the deal but quickly realized I woudn't be able to negotiate the return of all my money.
A new deal was struck; he kept the boat and I would keep the trailer. The boat was taken to the dump and I returned to Franklin with the trailer. As you can see from the pics the trailer was in pretty poor condition.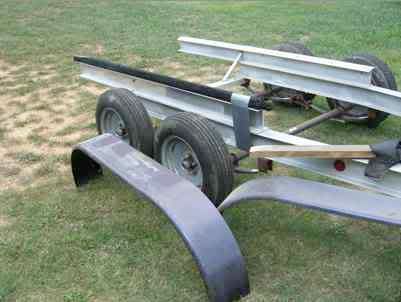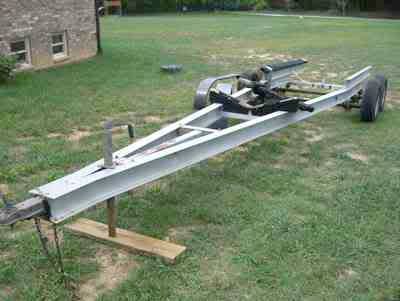 The tires and bearings were in good condition; but during the drive back the trailer literally began to fall apart. Bolts holding the aluminum bunks broke; so I had to use duct tape to hold it in place. At Texarkana I had trucker honk at me, pointing to my trailer. I looked into the rear view mirror and saw a aluminum I beam swing out in the other lane every time I hit a crack in the highway. The other bunk was missing the wood as well. I pulled over and taped the I beam down and found the missing bunk dragging by the old carpet about 3 feet behind the trailer.
The trip was a disaster; I lost the Enforcer(and money to boot) and my trailer was being strewn across the Texas/Arkansas state line.LOL I finally made it back to Franklin and began the process of rebuilding my trailer.
I painted the wheels....
...and had a winch post mfg at a local weld shop. The bow contours on the Enforcer are very similar to a bass boat; so I copied a winch post from a trailer that had a 21ft Stratos sitting on it. You'll see later on it would be a perfect fit.
I had front fender mounts made and put 2 center bunks in....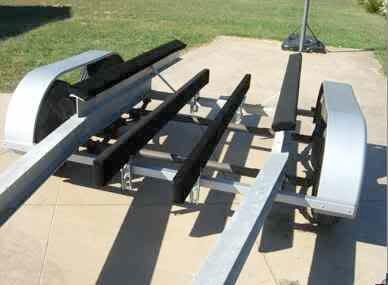 ...and had rear mounts mfg at the same weld shop. Also put new running and tail lights.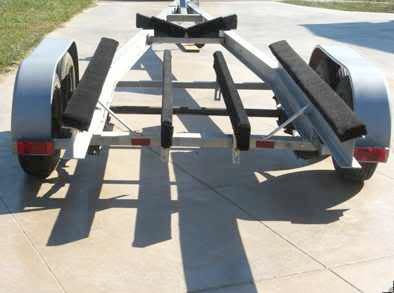 So now the fenders have been painted and mounted; winch and post added; new running and tail lights; 2 extra bunks; new carpet; running and tail lights; all stainless bolts; and wheels painted. It cost me about $250.
The trailer was a complete transformation; and here is what I have now.....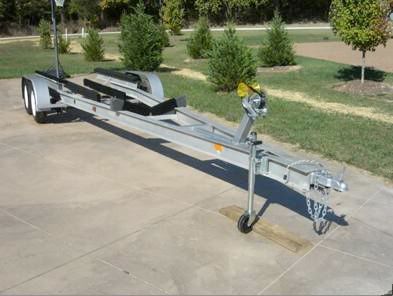 You're probably asking; "Why is he talking about his trailer? I thought this was about the Enforcer?" Well...it is. This experience was disapointing to say the least; but once I finally got my Enforcer I was so glad I had this trailer. It turned out to be perfect for the boat.
I'll be covering that and my experience with Kip Combs and Checkmate in Part 2: Yahoo! finally bagged a Enforcer. A truly gratifying experience!
Some of you may be thinking about my comment a few days ago in BOTM regarding checkmates on trailers.
You know: "looking at checkmates on trailers is kinda like looking at beatiful women in grannie panties...they're nice, but...." And now here I am blogging about nothing but trailers. That's like just lookin at the panties! geeez! LOL
No worries, here's some eye candy to make up for it. I'll be tossing these in every now and then just to break the monotony of the resto. Enjoy!
Hick
For those of you have noticed; I have combined my first three posts..... just now getting around to cleaning it up. Chris, I know I have already thanked you for this....but, thanks again for expanding the image capacity.


Hick
Comments
Posted 02-16-2009 at 12:37 PM by

ross