This is a tale of my journey to aquiring and restoring a true classic; the Checkmate Enforcer. I hope it will be entertaining as well as informative.
Most all that I will do and describe will probably be thrown to the wind in the forums first; so I know each of will have a part in the telling of this story. Thanks in advance for all that each of you have done so far, and for what you will do in the future.

Part 9: Transom clamps and gluing/ bedding the transom
---
As fate would have it I have lost all of the pics I took during the glueing and bedding of my new transom. So the following will be a discussion of the process. If I recover the files I will post pics.
But, before I get into that discussion I am going to repost here, The plans and and materials list for my Giant Jorgensen transom clamps.
Quote:
Well I finally got around to it....here are the plans; instructions and parts list for assembling your own GIANT Jorgensen type transom clamps.See attachments for the plans....they are a little crude but should be self explainatory.

Once you have completed them, you will have two clamps that will have approximately 30-32 inches of depth and 9-9.5 inches of width. This is usable clamping power So, here it is.

Tools

drill w/ 3/4" and 7/8" or 1" paddle bits
saw(s) wood and metal
tape measure
pencil
adjustable wrench

Materials

2ea 8' 2x4 ( I used pine; maple would make a stronger and more durable clamp)
2ea 36" 3/4" 10 thread rod
12ea 3/4" 10 thread nuts
12ea 3/4" flat washers
8ea 3/4" lock washers

Notes

* Be sure to use 8' 2x4's and cut them in half. If you buy studs you'll be shorting youself 4 1/2". I know it sounds moronic....but you guys can do the math

* Trick for drilling holes if you don't have a drill press...mark your 2" and 16" centers on both 2x4 edges. Then drill toward each other; first one side then the other. They won't be perfect; but will be fairly straight.

* The reason for the 7/8-1" holes is to allow some play so the jaws can clamp slightly out of parallel. This is important....if all four holes are 3/4" they won't clamp. I started w/ 7/8" and had to ream one out a little more so if you don't have a 7/8" bit a 1" should work fine. You can always take more out...but it's hard to add. I must also add that I did not use a 1" bit due to the appearance that there would be too little wood left on the outer edge of the 2x4...about a 1/4" on each side of the hole. 7/8" bit gives just a little more wood for strength

* Be sure to get the nuts w/ lock washers good and tight....and try to get them as close to the ends of the rods as possible.....too much threaded rod sticking out narrows the spread width of the jaws.

* Be sure to follow the "Assembly" page(pg2) exactly. The rear assembly "spreads" and the front assembly "clamps". This creates the fulcrum that gives Jorgensen type clamps their power.

* The The 10" angle cuts on the nose of the jaws are optional. I thought it would be advantageous to have them come to a moderate point in order to get the clamps into tighter spaces. Besides, I think they look better this way. Sand and finish to your own discretion. I didn't put alot of time in the finish on mine.

* All the materials I purchased at Ace Hardware and Lumber. Lowes and Home depot should have the same. Total cost for 2 clamps was less than $40. Hardened steel and maple will make more durable clamps....but unless you plan on building boats for a living....these should be fine. They have worked very well on my Enforcer resto.

* I will be posting more pics of the clamps being used in my Enforcer blog. Good luck! I hope they work well for you.


Hick
here are the plans
Here are some additional pics of the assembly and use of the clamps
Tools I used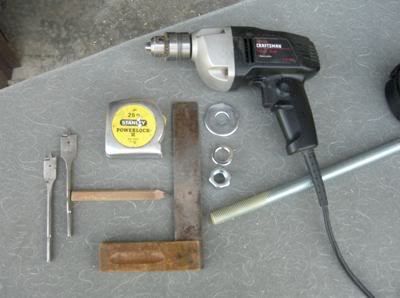 Close ups of spread and clamp assemblies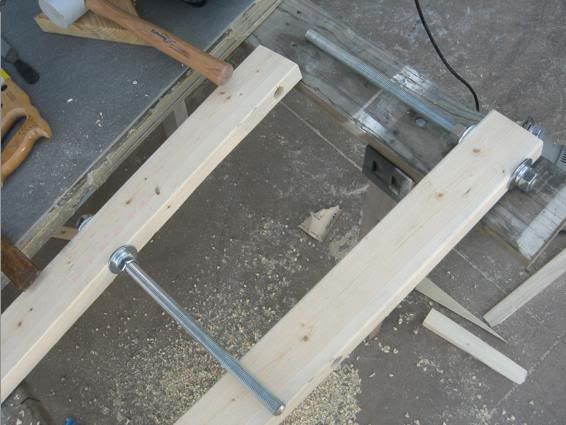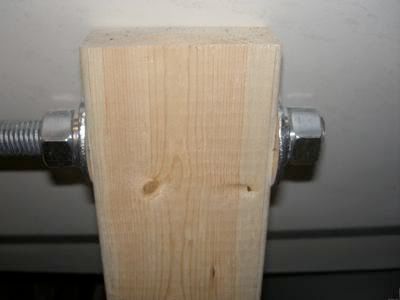 These pics depict the clamping and spreading assemblies in use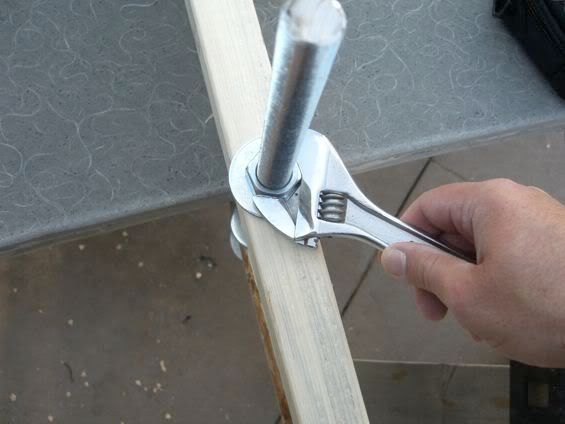 When I clamped my transom in; I used 2ea 2x4's on each side of the transom to help disperse the clamping power evenly. This pic just demonstrates the how large of a clamping area you have.
Once I locate the rest of the pics I'll post again in this thread. Thats all for now. I'll be back later this evening.
So now I move on to the bedding and gluing of my transom.
This wasn't as difficult as I assumed. The clamps worked like a champ! I used pl premium to glue it up and then placed 4 2x4's (2 on each side) between the jaws of the clamps and the clamping surface.
Prep is very simple: before spreading the adhesive; I first dusted the surface with a wisk broom then used a damp cloth to remove any material left. I troweled the pl evenly on both the transom and the inside skin of the stearn.
I adjusted the clamps for the approximate width of the 2x's transom and skin( 3"+2"+1/4"); then used the adjustable wrench to tighten. One word of warning;
once the pl is applied it sets up very quickly...don't get distracted w/ something else!
I clamped my transom in and then had to pick my son up at his church play rehearsal. I got back and realised I had glued the thing a little crooked. One side was about 3/4" higher than the other. It worked out okay as you will see in my next post; but it could have been disasterous.
EDIT: I found the pics of gluing and clamping of the transom here they are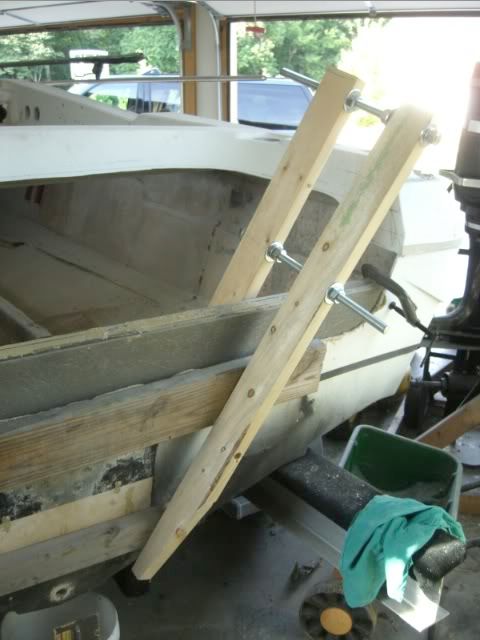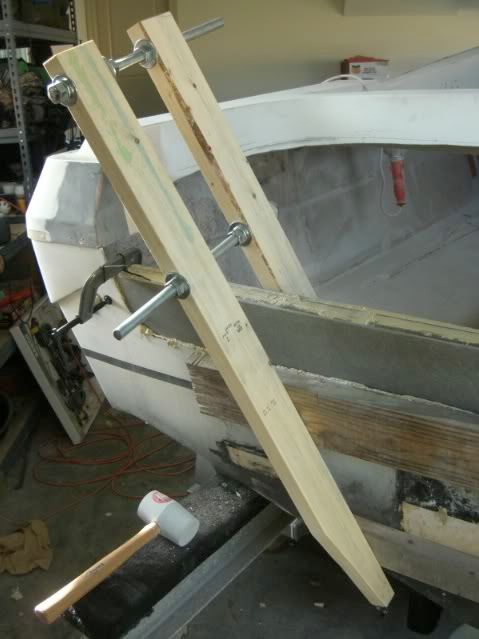 I continued the bedding process by using auto filler. i had an interesting discussion w/ Kip Combs at checkmate regarding the pink filler they use. Here is a quote of mine from an earlier post on the "Overhalin" forum.
Quote:
Here's the skinny on body fillers. DBF(Detroit) and Bondo are identical in almost all respects. This was eye opening for me.

Their ingredients are:

Polyester resin
Titanium dioxide
Talc
Silica
Glass microsphere's
Hardener: Dibenzoyl Peroxide(red in color-this what gives all of them the pink hue)

DBF has automotive; marine; RV and construction applications.
Bondo has automotive; marine; home and construction applications

Bondo is marketed under a number of names and is owned by 3M. This is a quote from the 3M website:

Quote:
About Bondo

BONDO manufactures and markets automotive body repair, household repair and marine products under the BONDO, MAR-HYDE, BONDO HOME SOLUTIONS, DYNATRON, MARSON, LAMINEX and BONDO MARINE brand names. Our extensive product line has over seven hundred items including adhesive kits, body fillers and putties, fiberglass repair products, paint removers, plastic repair products, rivets, spray paints, super glue, home repair kits, undercoatings, vinyl/fabric colors, paint removers, paint hardeners and catalysts, clearcoats, primer surfacers, solvents, bumper and trim products, aerosol spray paints, undercoatings, plastic repair materials and rust converters. BONDO products are distributed through mass merchandisers, automotive parts retailers and jobbers. They are exported to more than 100 countries. MAR-HYDE, DYNATRON and MARSON products are targeted to the more than 60,000 body shops throughout North America. BONDO traffic control loop sealing compounds are marketed to local governments for use when installing traffic signals at intersections. LAMINEX products and compounds are sold to fiberglass distributors and OEM boat builders. BONDO MARINE repair products are distributed via marine supply outlets. BONDO HOME SOLUTIONS household products are found in home improvement, hardware, paint and sundry retailers nationwide.

Trademarks
BODY LIGHT, BONDO®, BRI-TOP®, CHIP STOP, DYNALITE®, DYNATRON, HOME SOLUTIONS®, MAR-HYDE, MARSON, ONE-STEP®, PLATINUM, PUTTY COTE, QUICK FIX®, SCREAMERS®, SINGLE STAGE, SPRAY SANDPAPER, TAL-STRIP®, TOTAL PREP®, TRUCK GUARDTM, ULTIMATE, ULTRALITE, WHITE FILL, WHITE LIGHTNIN', YELLOW FILL
I've also included some attachment pics of several Bondo trademark fillers.

I decided to use Dynatron Dynalite because it was cheaper than Bondo.

I hope this helps any decision anyone may have when choosing a filler. Just pick one(preferably the cheaper); Most are virtually identical and some will probably come from the same Mfg.
I ended up using Dynalite. It works fairly easy and has a quick set time.
here a a few picks of the inside of the transom after the gluing and bedding were completed.
Well thats it for now. I'll be posting my stearn rebuild. i hope you enjoyed the post
Hick
Comments