1987 Checkmate Starfire - Project Hull - With Trailer & Alpha Drive Setup
I am finally giving up on this project, and have evicted it from my barn where it has sat basically since coming from RNGRDAVE. Had lofty goals, however time seems to be too short to make meaningful progress. I can either focus on this and let my 380 Powerquest sit outside, or I can finally add onto my barn and make the 380 fit, which is what the decision ended up being.
Comes with trailer, alpha drive, few motor accessories/mounts, 75% of interior pieces inside (at least good patterns if not usable), and I think there is a box of balsa core material in there. Brand new HD tarp included haha.
$600 and it is your project, exactly what I paid for it.
Here are some pics from yester-years that is exactly how it still looks: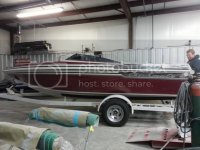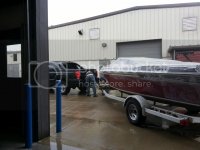 Dave's original thread can be found in this link :
http://checkmate-boats.com/forums/showthread.php?t=24987&highlight=1987+starfire